The good reputation of a company is an inevitable consequence of its services. The excellence of "Garage Door Repair Forest Hills" is mirrored not only in garage door services but also in gate repair. We are in this business long enough to know what must be done so that people can enjoy secure electric systems, which operate properly and with safety. We are experts in gate opener and intercom systems, great installers and dedicated to the needs of each customer. We are available for repairs, same day maintenance and ready to replace broken parts. Our 24 hour specialized contractors take care of urgent damages and we guarantee fast response.
Our services are immediate and exceptional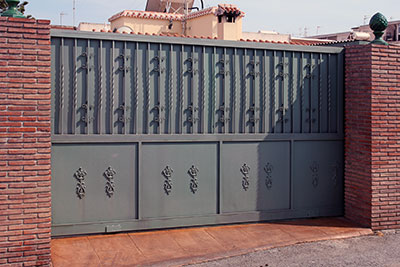 Gate service requires good preparation, remarkable tools, deep knowledge and expertise. We guarantee that our teams meet such demands in full and always stand close to every client in order to provide their assistance properly and as soon as possible. You can depend on us for services like:
Gate operator service
When it comes to automatic systems, openers need the highest attention. As knowledgeable technicians of all modern opener systems, we guarantee responsible services. This means arriving on time for opener installation and maintenance and offering our full dedication to your problems. Being accurate is our first priority and you can be sure of our expertise to fix gate motor problems and anything wrong with any part or accessories.
Sliding gate safety sensor replacement
Sensors are of vital importance in each electric system and we make sure all openers ordered for our customers comply with the UL 325 guidelines. We are available for sensors repair and replacement and during our services, we make sure the entrapment protection devices are installed and adjusted properly.
Automatic gate repair
We are distinguished for our capacity to offer top electric gate repair. As fanatic followers of opener developments, we have knowledge of all brands and models. Consequently, we have the professional ability to repair any damage of the electric system but also to replace parts, install new ones, troubleshoot problems and maintain the entire mechanism.
Gate intercom services
As masters in intercom systems, we promise assistance when you are looking for solutions and are top intercom installation experts. Regardless of the model and the requirements of the property, we can install intercoms with a phone enter system, security cameras, for single family houses or big buildings.
Gate wheels repair
Whether the sliding gate rollers need repair or replacement, you can count on us. Our work is precise, is done on time and our technicians are trained. The right size is chosen as well as strong materials and we make sure the new wheels sit well in tracks and are the perfect fit for your gate.
It goes without saying that Garage Door Repair Forest Hills is here for any other need. Naturally, our response during emergencies is immediate and 24/7. Our services are as many as your problems and even more. We are top maintenance service experts, specialize in troubleshooting, replace tracks and hinges, repair and adjust all types of gates. Your concerns are our priority and we don't rest till you feel secure and safe again. So, don't hesitate to give us a call if something is wrong with your system.